Skeeson 11 Playoff Bracket Released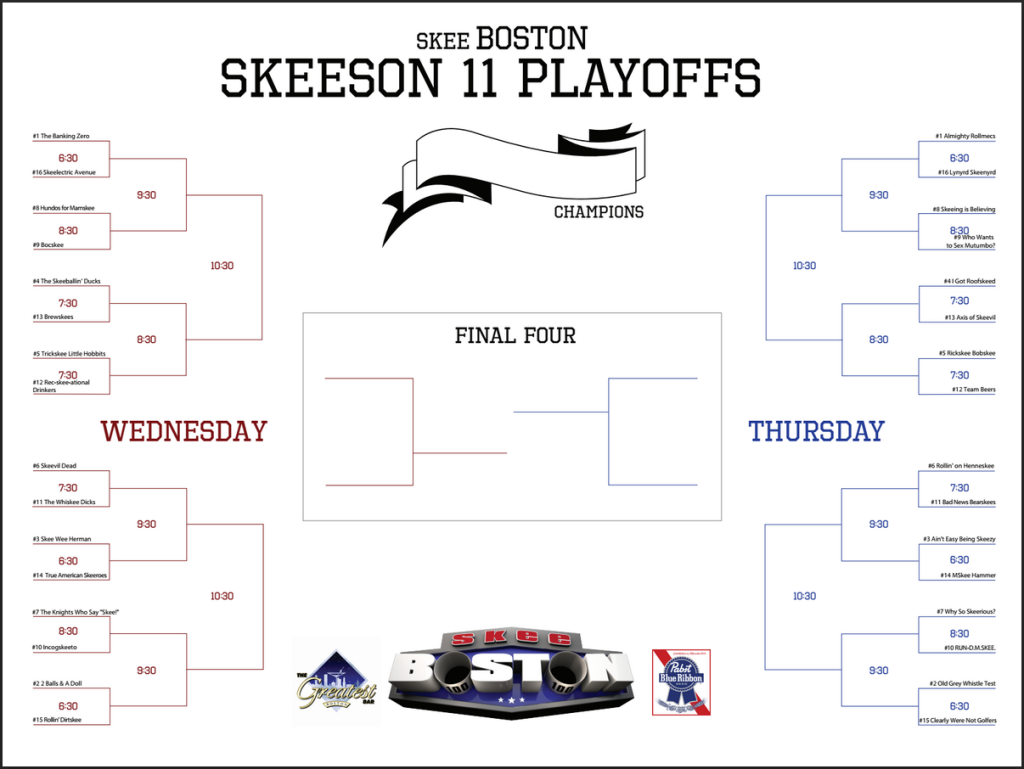 Skeeson 11 Playoff Bracket Released – I had to take a screen shot of the PDF, so it's a little small, but I did my best so if you zoom in you should be able to read all the teams. No one stepped up to be the ghost writer this season, so I'm going to make a few picks on the fly.
Last skeeson's playoff's were one of the best ever with upsets everywhere. It goes to show that anything can happen and I fully expect to see some more crazy upsets this skeeson. So here goes it…
Wednesday Night
AKA the defending champs. In the top half of the bracket I'm most excited to watch the rematch between co-workers Hundos for Marnskee and Bocskee. These guys just had a back and forth battle in Week 8 and we all know it's tough to beat a team twice! That being said, I'm picking the rookskee's to take out the vets in two straight weeks (sorry I'm not sorry)! Other than that, I see all chalk and the Ducks facing off against their nemesis for a chance to advance to SSXI. Shed's on fire and there is zero chance the Ducks beat her this season. Yup, I said it. Zero.
The bottom half of the bracket on Wednesday night isn't going to go as smoothly. I'm picking The Knights Who Say SKEE in the #10 vs #7 upset. Skeeball is like March Madness and a #10 seed almost always pulls off an upset. My next upset will be one of the biggest of the night, as #3 Skee Wee Herman will fall to #6 Skeevil Dead. The playoffs bring the pressure and we all know Skee Wee Herman can't handle the pressure. This upset should allow 2 Balls & A Doll to sail back into the final four and defend their title on Super Saturday. I know what you are thinking… I just picked all chalk. But unfortunately it's going to happen on Wednesday night.
Thursday Night
The top of the bracket on Thursday is going to be full of fireworks. Whether Everett likes it or not, his team won't be rolling on Super Saturday. So take that chalk talk from above, roll it up and smoke it. While I think they will advance by less than 100 in round 1, Who Wants to Sex Mutumbo is going to go on another epic playoff run (led by Schmoopy Pants) and knock them out. BOOM! Another #1 seed hits the dust. I also am predicting another epic Chris Martin collapse (I really don't get it, kids a musician and has no problem playing in front of thousands of people, but you put a skeeball in his hand and forget about it). #5 Rickskee Bobskee and their onesies are heading to Super Saturday.
The bottom half of the bracket isn't going to be as exciting, until the #2 and #3 seeds face off for a chance to play on Super Saturday. I think everything else will hold, but Eric will be sporting his home white's and I see Ain't Easy making back to back trips to Super Saturday.
So there you have it… The Banking Zero, 2 Balls, Bobskee and Ain't Easy in the final four. I like The Banking Zero and Ain't Easy to advance to the finals and I'm picking The Banking Zero to walk away with the Chalice.
Don't like my predictions? Go proof me wrong! Skee you all tonight… and tomorrow.
Skeeson 11 Playoff Bracket Released