Skeeson 11 High Roller's Report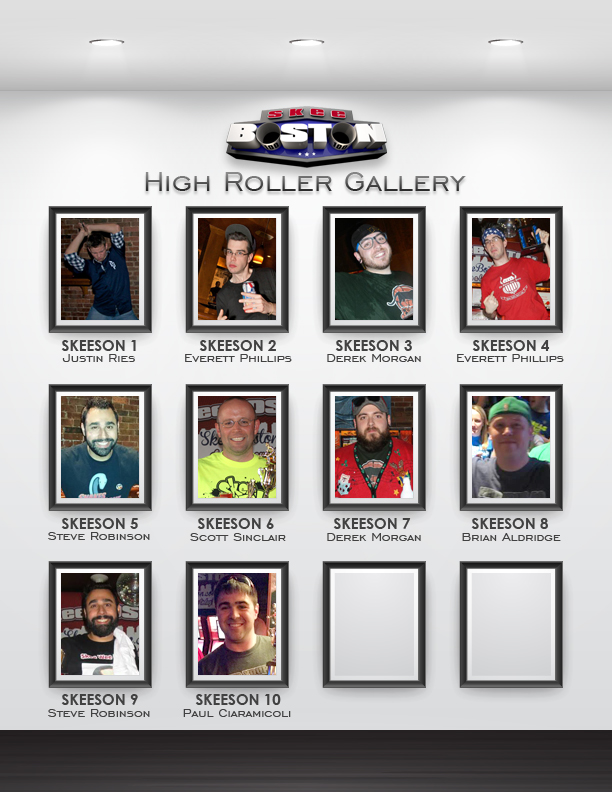 [Editor's Note: Each season I handpick one of the veterans to write the High Rollers Report. The report is a breakdown of the individual match-ups on Super Saturday and its sole purpose is to provide a little entertainment the day before. If he/she takes shots or jabs at you it means they like you, it's all in good fun. As always, the guest writer has been granted anonymity. So without further ado, I bring to you the Skeeson 11 High Rollers Report.]
HRT Bracket – Super Saturday 11 (SSXI)
Why anyone would volunteer to be the ghost writer after last skeeson's writer handpicked the winner is beyond me. Apparently I'm a glutton for punishment, so let's make this quick (and dirty!). [Editor's Note:I like where this is headed already!]
Welcome to SSXI and the High Roller Tournament (HRT). Skeeson 10's finale will be tough to beat – you always hear that every ball matters, and no one knows that better than last season's bridesmaid, Pat "PattyCakes" Bassett, who's last ball in the fifth and deciding match lipped out of the 40 handing victory to (an utterly confused, probably drunk) Paul "The Plumber" Ciaramicoli. Something tells me Pat will be in the hunt again this season, but with the talent in SkeeBoston as deep as it has ever been, expect to see some chaos in the HRT. [Editor's Note: I'm pretty sure Pat has nightmares every night about rolling that zero. And if not every night, definitely TONIGHT!]
Here's how it stacks up in my view:
PattyCakes Division – Redemption Island
[Editor's Note: I'm editing this on the fly and I swear if this bracket indicates you are picking Pat to win it all… then this is your first and last write-up!]
Pat returns as the #1 overall seed and will clearly be looking to repeat his march to the HRT finale. Standing in his way are some grizzled vets, including #9 Stephanie Burgess and #17 John Greek of 2 Balls & A Doll who will be looking to avenge an early (and controversial [Editor's Note: just a little bad math!]) exit from the playoffs on Wednesday night. Speaking of early exits from the playoffs, #8 Devin McDonald will be hungry after his #1 (Not so Mighty) [Editor's Note: SHOTS FIRED!] Rollmecs team were also bounced early from Thursday night. Ray DiCiaccio at #41 seems like a classic underdog to me because he can hit 40/50 combos with the best of 'em…he's definitely a sleeper in this bracket. #25 Ian Palmer seems a little under-seeded to me as well, I could see him potentially making the final 8. But Wednesday night dominates this bracket, and I think that's how it will play out in the end with Pat edging out Stephanie in a close contest (please be sure to check your math). [Editor's Note: Double boom.]
Marty Martin Division – Studs & Duds
#2 seed Chris [Editor's Note: Salt & Peppa, new nickname!] Martin, just one ball short of being the #1 seed (skee, every ball matters), is right up there with Chuck and Shed as three of SkeeBoston's finest to not have an HRT to their name, but unlike the other two, Chris doesn't have a chalice to his name (due in large part to multiple absences from Super Saturdays of the past). With all due respect to the rest of this division, this is Chris's to lose. Fresh off three victories Thursday night where he averaged 490 (!), he is just a machine right now. It will interesting to see how he fares coming off the chalice matches Saturday morning, but even at 85-90% he's the one to beat. [Editor's Note: Want my prediction? Choke city. After he implodes in the team final four he won't even be in the bar for the HRT.]
Keep your eye on two rookskees that are rolling well — #34 Michael Pagnotta rolled a 391 in the playoffs, while #50 Ryan Bell was in the 335 range – dangerous numbers come HRT time. #7 Joe Stromer and #10 Matt Palmer will battle in the bottom half of the bracket to see who will be the sacrificial lamb for Chris (who already steamrolled Joe in the playoffs on Thursday). Veterans #15 Lindsay Allen, #18 Bobby Arguello, and former HRT champ #23 Brian Aldridge will be doing their best to create some chaos in this bracket as well.
Shed Division – Winter is Coming
[Editor's Note: Should I get this reference? So confused right now? The Winter is over. Whatever, moving on.]
#3 overall seed Jenn "The Shed" Foxon has three things standing in the way of her first HRT title – 1) a chalice victory on Saturday; 2) her own mental capacity – she's a headcase in the HRT [Editor's Note: Fact. Out by the second round, mark it down.]; 3) two former HRT champs in #11 Everett "The Baker" Phillips and #14 Scottie "Too Hottie" Sinclair and one of SkeeBoston's top rollers to not have an HRT, two-time HRT finalist #6 Chuck "Schmoopy Asterisk" Rogers. Let's not forget about Old Grey Whistle Test skeemates #22 Ryan Geraghty (who I heard broke 400 last night) and #27 Jan Harrington who are peaking at the right time. If Shed makes it out of this bracket it will be some of her best work yet, but I don't see her getting past #30 Ben Fountain who might be one of the hottest rollers in SkeeBoston currently. [Editor's Note: neither do I. Ben wins in two games.] Chuck and Ben in the final two of this bracket with Ben powering through to the final four. [Editor's Note: There you go… a #30 seed in the final four. I love it! #AboutTime]
Pinball Division – Cult of Personality
Steve "Pinball" Robinson heads into HRT as a top seed, this skeeson as the #4 overall seed. This bracket might be one of the most diverse (see: loud, obnoxious, drunk, high) in SkeeBoston's eleven skeesons –TGB might not be safe with #45 Greg Cole, #53 Ted "Smash" Pearce, and #60 John "Choke" Polischuck (did he break 300 this skeeson…how is he not in the Wild Card tourney?!?) in the same grouping [Editor's Note: hahahaha I was thinking the same thing!]….hide the women and children! Standing in the way of another HRT final for Pinball is his skeemate, #29 Sam Reidy, who has been known to make a deep run of his own in skeesons past.
In another bracket that is top-heavy with the Wednesday night crew, I expect Smash to pull an upset of #12 Paul "The Plumber" Ciaramicoli (who I expect will be drunk from celebrating another chalice victory), before succumbing to #21 Jerry Glendye. [Editor's Note:I just realized he's now been involved in two math blunders. JERRY!] Pinball might make the final 8, but his run ends there as #5 Nick Weir steps up for Thursday night and gets to the final four.
Final Four:
Pat Bassett vs. Nick Weir
A battle of two of SkeeBoston's top rollers of the past few skeesons, this will be fun to watch. Pat has two scores north of 500 to his credit this skeeson, and I heard Nick rolled a 470 or something ridiculous last night. The 50's and hundos will be flying in this one, but I think Pat will squeak this one out and make a return to the HRT final. [Editor's Note: You are going to do it aren't you?]
Chris Martin vs. Ben Fountain
I'd love to pull for the underdog here, but Ben's Cinderella run comes to end – unless he can channel inner playoff form again where the 50's and hundos were falling for him left and right. And he'll need to because Chris will definitely be dropping them. Chris moves on to his first HRT final.
Finalists: Pat Bassett vs. Chris Martin
It's straight chalk, I know (I can already hear Duke yelling).[Editor's Note:Sure am. Un-f*ckinbelievable.] But this is the match-up that's been destined to happen all season – #1 from Wednesday vs. #1 from Thursday – and it wasn't really close. Picking here is like picking your favorite child, but as you could probably guess [Editor's Note: whoa, big stretch!] I'm going with Chris putting his name on the HRT trophy. And we might never see him at SkeeBoston again…ever. #dropthemic
There you have it. Get some sleep tonight friends, tomorrow is going to be epic!
Skeeson 11 High Roller's Report