Season 9 High Rollers Report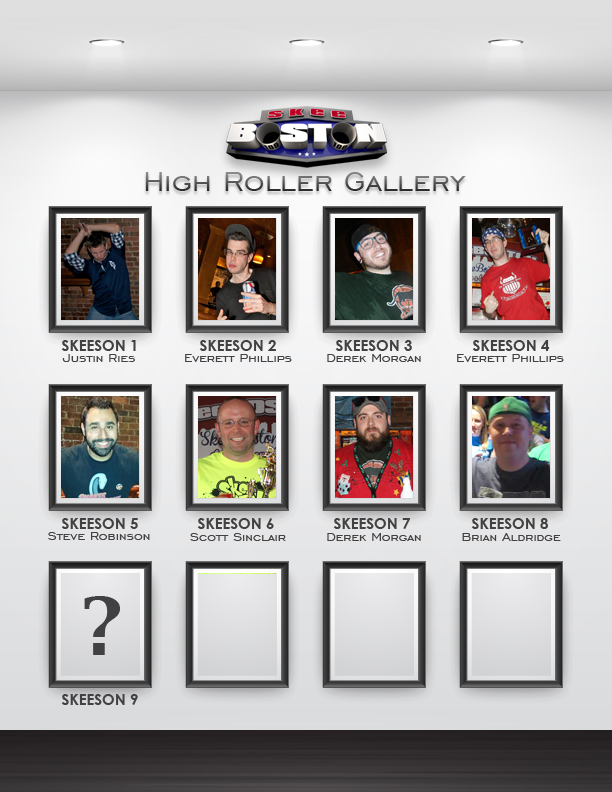 [Editor's Note: Each season I handpick one of the veterans to write the High Rollers Report.  The report is a breakdown of the individual matchups on Super Saturday and its sole purpose is to provide a little entertainment the day before.  If he/she takes shots or jabs at you it means they like you, it's all in good fun.  As always, the guest writer has been granted anonymity. So without further ado, I bring to you the Season 9 High Rollers Report.]
Season 9 – Playoff Recap & High Roller Report
High Roller Tournament (HRT)
Greetings, high rollers! The current weather forecast for Saturday is temps in the low 70's and rain….sounds like a great day to hang out at TGB where the only thing it will be raining is trophies (and of course the PBR and SoCo will be flowing)! [Editor's Note: I've heard way to many excuses about not making it tomorrow. Mother Nature made it clear where you should be!]
As we've seen in skeesons past, this tournament is always wide open and the seeds get thrown out the window.  The Skeeson 8 final pitted #13 Brian "Bri-Guy" Aldridge against #14 Chelsey "Che" Jensen, so anything can happen!  In that same vein, I'm going to skip the Wild Card tourney because I have no clue what to expect…anybody can win that tourney and come away with a trophy!
Alright, per Duke's recommendation I have divided the brackets into four divisions to speed things along. [Editor's Note: Thank god.] Let's take a look at each one.
Rum, Rum, Repeat
#1 Patrick Bassett is back in a familiar position as the top seed in the HRT.  Pat exited the HRT early last skeeson and will be looking to make a deeper run this time around, especially after his team was upset in the playoffs on Wednesday.  Standing squarely in Pat's path, assuming the seeds hold, is defending HRT champ #16 Brian Aldridge.  If Pat gets through Brian (which I don't think he will….) his path to the final four looks clear.  My pick from this bracket was #25 Jamie Charles until I found out his wife veto'ed SSIX [Editor's Note: Has he ever rolled on Saturday?].  #6 Lisa OGawa is MIA, so things look to be shaping up nicely for #9 Greek to advance here. Keep an eye on #17 Paul "The Plumber" Ciaramicoli (no shot for him if they win the chalice if history is any guide…see more below).
Best matchup:  A potential Sweet 16 matchup of #1 Pat vs. #16 Brian
That's What Skee Shed
The bracket sets up pretty well for #2 Jenn "The Shed" Foxon, but a lot will depend on how her team does in the final four as we've seen her in various states of "lubrication" for the HRT the past three skeesons.  Looming large in the top half of her bracket are #15 Sam Reidy, #18 Andrew Newton, and #34 Troy Sargent (how is he only #34?)[Editor's Note: Troy is dangerous and also my sleeper pick], so Shed will have her hands full.  I don't see her getting out of the top half of this bracket, as one of those three guys will pick her off…my hunch is it's Andrew that gets the job done and end up coming out of this bracket, which looks like it might be the toughest with #10 Stephanie Burgess and #23 Robo Arguello leading the charge in the bottom half of the bracket.
Best matchup:  A potential second round match-up between #15 Sam and #18 Andrew could determine who eventually comes out of this bracket.
Slurred Speech
Skeeson 6 HRT champ #3 Scottie "Too Hottie" Sinclair returns to the HRT as a top seed for the first time in a long time.  He has his hands full in a bracket with another former HRT champ, #6 Steve Robinson, along with #11 Ben Fountain, #14 Christina "Coozie" Cusalito, and #22 Allison Mallett.  If Scott can get through a potential second round matchup with #30 Kyle Sherry, it looks like a clear path to the final eight.  Waiting for him there will be Allison, a sneaky sleeper from this bracket that is poised to go on a run and pull some upsets over Ben and Steve.  I think she goes one step further and takes out Scott to make it to the final four. [Editor's Note: I like Ben, he's making a run.]
Best matchup:  If the seeds hold, a second round match between #11 Ben and #22 Allison will go a long way to determining the outcome of this bracket.
Ain't No Cupcake

Much like Scott, #4 Everett "The Baker" Phillips finds himself back as a top seed in the HRT for the first time in a number of skeesons.  And his path to the final four is a bumpy one, with #5 Nick Weir, #12 Eric Mendes, #13 Tom Martin, and #21 Jerry Glendye standing in his way[Editor's Note: without a doubt the hardest bracket].  And you can't sleep on #20 Chris Trott or #36 JP Martin, who can go big for a few frames with the best of them.  Everett will likely have to go through one of his ex-skeemates (Trott or Tom) to reach the Sweet 16.  I suspect this will be a wide open bracket, with a lot of upsets along the way….including an upset of Everett in the Sweet 16 matchup.  At the end of the day, I believe Nick emerges from the group and moves on to the final four in a strong position to take down his first chalice.
Best matchup:  If the seeds hold, a second round match between former skeemates and chalice champs #4 Everett and #13 Tom is a juicy battle. [Editor's Note: If this happens, get your popcorn ready!]
Final Four
#5 Nick Weir vs #9 Greek
This will be a hotly contested battle with the 40s and 50s flying. Greek won't make any math errors like his teammates Jerry[Editor's Note: Bombs!], but his run will come to an end in the final four as Nick moves on to the finals.
#18 Andrew Newton vs. #22 Allison Mallett
Two of the league's underrated rollers will battle for a spot in the finals.  Allison will need her A-game to knock Andrew off, as he was Mr. Consistent in the Thursday playoff.  I think Andrew moves on in a squeaker and ends the Cineralla story for Allison. [Editor's Note: Should Andrew get his eyes dilated before every match!?]
FINALS
#5 Nick Weir vs. #18 Andrew Newton
Nick has been one of the league's top rollers for the past few skeesons and always seems to come up just a little short in the end (if he shows up at all).  Super Saturday will be his day though, as he walks away the HRT champ for SkeeBoston's Skeeson 9.
There you have it, high rollers.  Time to get out there and prove me completely wrong!  I look forward to skeeing you at SSIX …good luck to everyone tomorrow!!
Season 9 High Rollers Report