Season 8 High Rollers Report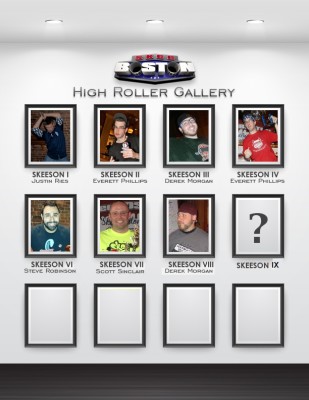 [Editor's Note: Each season I handpick one of the veterans to write the High Rollers Report.  The report is a breakdown of the individual matchups on Super Saturday and its sole purpose is to provide a little entertainment the day before.  If he/she takes shots or jabs at you it means they like you, it's all in good fun.  As always, the guest writer has been granted anonymity. So without further ado, I bring to you the Season 8 High Rollers Report.]
Skeeson 8 High Rollers Report – Clash of the Titans
Welcome to Super Saturday VIII!  Combine trophies, PBR, SoCo, cupcakes, and side bets with a little skeeball, okay maybe a lot of skeeball (the Chalice, HRT, Wild Card, Around the World, Hundo Shootout, and more….) and you get the best of day your life you might never remember.  Skeeson 7 [Editor's Note: and Skeeson 6] came down to the last frame for both the Chalice and the High Roller Tourney (HRT) and I expect no less intensity this Saturday.  If you've yet to experience Super Saturday then buckle up as it promises to be a wild ride (Rookskees, ask a vet if you want confirmation).
And if the team playoffs are any indication of how this weekend is shaping up, we're in for one heluva show on Saturday.  On Wednesday night, #2 SkeeBallin held form against #3 Two Balls & A Doll, while #4 Smells Like Skee Spirit pulled the upset (Shed/Paul/Skee Mac always seem to be at their best come playoff time) against #1 Skee Wee Hermans (can they still be called #SuperTeam?).
Thursday night saw #1 Skeevenge of the Nerds cruise into Super Saturday with relative ease.  But the biggest upset of the playoffs this skeeson came from #7 Why So Skeerious who knocked off #2 Skeepleus in convincing fashion in the round of 8 (live and die by the hundo!).  Skeerious couldn't keep that momentum in the final match of the night, however, as #3 Skeematics Got Roofskeed advanced to the Final Four (Skeematics barely survived a 4-point thriller vs. #6 It Ain't Easy Being Skeezy the match prior).  Just goes to show you that anything can happen!  I foresee a SkeeBallin vs. Skeevenge of the Nerds final with SkeeBallin taking home the Chalice for the first time and keeping the trophy on Wednesday night.
Speaking of the teams, if you want to see some good rolling before the individual events kickoff for Super Saturday be sure to get there for the Chalice final at 12:10 PM (even better, come for the Final Four starting at 11:15 AM…TGB makes a mean bloody mary/mimosa).  The last three matches of skeeson 7 were some of the best in SkeeBOSTON history, culminating with an epic final with Smells Like Skee Spirit over Skeepleus in the last frame to take the Chalice.
Shifting to the individual rollers, there are certainly some intriguing storylines for this year's HRT.  Will we see the first three-time champ in Everett "The Baker" Phillips or can Derek "Barfs" Morgan repeat as champ to get his third HRT crown?  Might Steve "Pinball" Robinson or Scottie "Too Hottie" Sinclair become a two-time champ?  Or will someone else emerge as SkeeBOSTON's newest high roller?!?
For the Wild Card tourney my play is to lean on the top seeds – Alex Carr, Jamie Bergstein, Jordan Silver, Jimmy Mayshar.  There are some sneaky vets hiding in the weeds of the lower seeds though that could shake things up a little, including Greg Cole, Zach Ryan, Megan Loughnane, Kevin Sanderson, and Shannon McLaughlin.  And I would not at all be surprised to see a mid-to-high double-digit seed emerge victorious here.
For the HRT, we'll take a look at each of the four brackets for the predicted winner and some potential sleepers.  For convenience, we'll assign a name to each bracket based on each of the top four seeds – #1 Pat "Trickskee" Bassett, #2 Derek "Barfs" Morgan, #3 Jenn "The Shed" Foxon, and #4 Lisa "Ichiro" Ogawa.
Ichiro Bracket
The boys better watch out because this bracket is loaded with ladies, particularly in the top half of the bracket, led by #4 Lisa "Ichiro" Igawa.  Last year's ghost writer predicted she would make the final (she came up short) and I'm not sure that will happen this time around either as #13 Brian "Bri-Guy" Aldridge (skeeson 7 HRT finalist…but sub-300 in the playoffs on Wednesday?), #20 Christina "Coozie" Cusolito, and #29 Allison Mallet are tough foes in just the top half of the bracket alone.  #12 Stephanie Burgess, and #21 Mike Simpson [Editor's Note: if he shows up] also loom large in the bottom half.  #5 Nick Weir would have been my pick here, but apparently he's skipping Super Saturday (dude, where are you priorities?!?)[Editor's Note: I agree, although a bachelor party is the closest thing to an acceptable excuse. Pretty sure Scotty too Hottie did the same thing his 1st season and he regrets it to this day!].  As a result, this is easily the most wide-open bracket of the four.  I'm going out on a limb and predicting a skeemate matchup between Lisa and #28 Everett Phillips in the Elite Eight, with Ev pulling the upset to get back to the Final Four.  It's been a rough few skeesons for the former champ, but he seems to be rounding into shape at the right time.
Best matchup:  Hands down, the best matchup of the first round is two-time HRT champ #28 Everett "The Baker" Phillips vs. #37 John "I didn't even get a playing card this skeeson" Polischuck [Editor's Note: BURNNNNNNN!].  Hide the women and children, folks.  This has bloodbath written all over it. [Editor's Note: Seriously, get your popcorn ready.]
Shed Bracket
#3 Jenn "The Shed" Foxon might be the favorite to come out of this bracket based on seeding, but this is the "Bracket of Death" in my opinion with former HRT champ #6 Steve "Pinball" Robinson, #11 Eric Mendes, #14 Chelsey "Che" Jensen, #19 Pat Flaherty (under seeded like #12 Harvard in March Madness, IMO), and #22 Jerry "Cameraman" Glendye waiting to steal her thunder.  Everyone wants to see the Shed vs. Pinball matchup in the Elite 8 and I think Pinball will get there, but whether or not Shed does likely depends how her team fares in the battle for the Chalice.  Shed wasn't quite herself in the skeeson 7 HRT after celebrating with Smells Like Skee Spirit after they won the Chalice (I love Super Saturday!).  I'll lean Pinball in this bracket as he'll be looking for redemption after getting upset on Wednesday night. [Editor's Note: Shed will never win an HRT.]
Best matchup:  A potential second round battle with #14 Chelsey Jensen and #19 Pat Flaherty.
Barfs Bracket
#2 Derek "Barfs" Morgan is seeking to repeat in the HRT and become the first three-time champ in SkeeBOSTON history, but it will certainly be a tall order.  #7 Joe Stromer, #10 Chuck Labbee, #15 Andrew Newton, #18 Tom Martin, and #23 Jan Harrington (watch out if she finds her hundo) will be trying to prevent a third title, and don't sleep on #31 Ray DiCiacco in a potential second round matchup as he found his 40/50 combos  on Thursday nights (upset special).  Rumor has it Derek might be taking a hiatus from SkeeBOSTON after this skeeson [Editor's Note: Polischoke made him quit again?], so he'll want to leave his mark on the league with a strong showing.  I think he makes it back to the Final Four. [Editor's Note: I think he gets knocked out in the 2nd round.]
Best matchup:  A potential second round match between #15 Andrew Newton and #18 Tom Martin.
Get it?  A tall order?!? Bwahahahahaha. [Editor's Note: LOL. Well played.]
Trickskee Bracket
Pat "Trickskee" Bassett has been dominating skeeson 8 from the beginning as his 418.6 average is nearly 20 points clear of Barfs.  He failed to break 400 just twice this skeeson including a 396 (what happened the night he rolled 334?!?), along with six 40/50 combos, a 50 streak, and 146 hundos.  Damn.  There are some potential speed bumps on his path to the HRT final though, namely #8 Ian Palmer, #9 Sam Reidy, #16 Scott Sinclair (former HRT champ), and #17 Ben Fountain.  If Pat is on form he should breeze to the Final Four, though Ian is potentially a sneaky tough matchup in the Elite 8. [Editor's Note: Ben is on fire and I like him to advance.]
Best matchup:  #25 Tom Siemaszko vs. #40 JP Wilson.  Talk about some volatile rollers…these guys could top 350 or barely break 250 at any given time.
Final Four
#1 Patrick Bassett vs. #28 Everett Phillips
A classic matchup pitting the top roller from Wednesday and a (former) top roller from Thursday against one another.  Wednesday night tipped the balance of power with a Chalice victory last skeeson and I think that trend continues here with Pat squeaking by to the finals to end Ev's Cinderella run.
# 2 Derek Morgan vs. #6 Steve Robinson
A battle of former HRT champs, friends, roommates, Wed. vs. Thurs., and good nicknames.  Coozie is already crying somewhere.  Derek is getting hot at the right time of the skeeson and I think this one goes the distance with Barf's hundos being the difference.
#1 Patrick Bassett vs. #2 Derek Morgan [Editor's Note: Way to go out on a limb. Doubt I will be asking you to write again. #1 vs #2. Really!?]
A clash of the titans.  The grizzled veteran versus the wily newcomer.  This one, should it come to pass, could be an epic finale to skeeson 8.  I think Derek's run ends here as Pat has been too good, too consistent all skeeson. Pat brings the HRT to Wednesday night and becomes the newest high roller in SkeeBOSTON to cap a dominating skeeson 8.
[Editor's Note: I got Scotty Too Hottie playing Ichiro and Stromer playing Mendes in the Final Four. Lisa vs Joe in the finals… and Stromer bringing home the bacon.]
Good luck to all of the teams and rollers on Super Saturday VIII.  Looking forward to a great day on the lanes (and at the bar) with all of you.  Skee you there!
Season 8 High Rollers Report