Season 7 High Rollers Report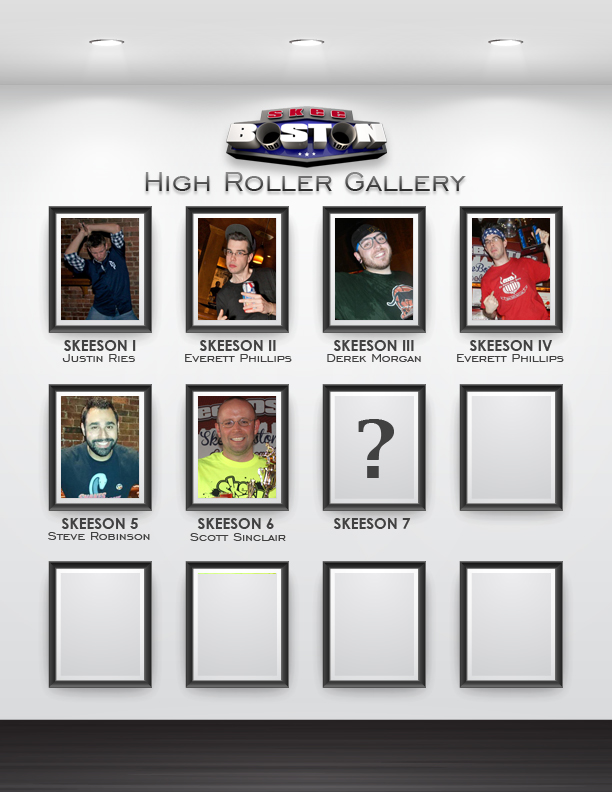 [Editor's Note: Each season I handpick one of the veterans to write the high rollers report.  The report is a breakdown of the individual matchups on Super Skeeball Saturday and its sole purpose is to provide a little entertainment the day before Super Saturday.  If they take shots or jabs at you it means they like you, it's all in good fun.  As always, the guest writer has been granted anonymity. So without further ado, I bring to you the Season 7 High Rollers Report.]
Ladies and gentlemen, boys and girls, welcome to Super Skeeball Saturday for SkeeBOSTON's seventh Skeeson!  The action gets more intense each skeeson and this weekend promises to be no different.  While the skeeson 6 finale will be tough to replicate – a last frame 57 to win the chalice [Editor's Note: most insane finish EVER], and a last frame combo to win the High Roller Tourney (HRT)– one team and numerous individuals always come from behind to ultimately make their way to the trophy stand on Super Saturday.  If the playoff matches from Wednesday and Thursday night are any indication of the action we'll see tomorrow, then buckle up because it's going to be a wild ride!
Speaking of playoffs, the action was intense on both nights.  While the chalk held on Wednesday, #5 seed Skeepleus pulled the upset of the skeeson so far knocking off #1 seed and undefeated I Got Roofskeed to get to Super Saturday.  Apparently John "Hawk" Polischuck's smack talk isn't as effective when his team isn't rolling as well.  Joining Skeepleus from Thursday is #2 seed Mustard Tigers, who got through on two strong last frames from Derek "Barfs" Morgan against #10 Bad News Bearskees (almost the upset of the night) and #3 Chotchskees.  Chotchskees almost pulled it off despite Chris "Not So Hot" Trott doing his best Ted "Smash" Pearce impersonation (Rookskees, ask a veteran if you want to know what this means).
On the Wednesday side of things, the battle of the night, as predicted by the Skee Nerd (love this girl/guy, whoever it is) was between #4 Murder Skee Wrote and #5 Little Lebowski Urban Achievers (LLUA).  LLUA got hot late in the skeeson and rode the hot hand to the upset in this tightly contested matchup.  Their run would come up just a bit short, however, as #1 Smells Like Skee Spirit and #2 Skee Ballin advanced to tomorrow's big day.  Both Wednesday teams have been to Super Saturday in the past two skeesons and played for the chalice, so experience could be a crucial factor tomorrow.
Enough about the teams, let's shift gears and talk some high rollers.   Much like the team playoffs, anything can and does happen in the HRT.  We've seen top seeds consistently go down in early matchups…so you're never out of it until the last ball hundo!  Who knows, this could be the season that #5 Chuck "Schmoopy Pants" Rogers finally is the HRT bride instead of the bridesmaid for a third time.  Maybe #3 Chris "McFly" Martin gets the monkey off his back as one of SkeeBoston's top 2 rollers without a major trophy.  And maybe, just maybe, #35 Chris "Not So Hot" Trott can surprise everyone (including himself) and rebound from Thursday's epic meltdown.  Wait, what?!?  These three won't be there for Super Saturday?!?  So soft. [Editor's Note: Weak sauce.]
Moving on, for the Wild Card tourney, we're going to predict mostly chalk, so the top seeds – Craig Pfister, Mark Griffith, Matt Gaide, and Shannon McLaughlin – appear to be in the driver's seat.  Keep your eyes out, however, for some seasoned vets that have had success in the Wild Card before (Heather Ryan, Joanne Wozniak) and those high variance rollers (Alex Piersant, Sarah Bouldin, Marissa Bias, Nicole Angelique) for potential upsets. [Editor's Note: My final 4 is Kevin Sanderson (last years winner), Pat Maguire, Ryan Geraghty, and Meg Loughnane. Meg and Pat in the finals and Pat taking home the bacon.]
For the HRT, we'll take a look at each of the four brackets for the predicted winner and some potential sleepers.  For convenience, we'll assign a name to each bracket based on each of the top four seeds – #1 Jenn "The Shed" Foxon, #2 Derek "Barfs" Morgan, #3 Chris "McFly" Martin, #4 Steve "Pinball" Robinson.
Shed Bracket
This is Jenn Foxon's tournament to lose.  She has been far and away the best roller this skeeson…and it's not really close.  The one question is how badly she wants to win the title.  If she's focused, I don't see anyone getting in her way.  If Shed slips up, I'd look for veterans #8 Frank Davoli, #9 Andrew Newton, and # 17 Sam Reidy to capitalize on the opportunity to get to the final four.  Best matchup:  #16 Ian Palmer vs. #17 Sam Reidy in the second round.
Barfs Bracket
With two of the top five seeds out of other brackets (Chris & Chuck), the Barfs bracket is the "Bracket of Death" in my opinion with two former HRT champs in Barfs and Scottie #7 "Too Hottie" Sinclair, #10 Pat Flaherty who has topped 400 multiple times this skeeson, #15 Jerry "The Camera Man" Glendye who just topped 400 on Wednesday night, and #26 Tom "Lankskee" Martin who seemed to be finding his groove on Thursday.  I think Barfs probably holds form in his bracket, but a number of potential potholes exist, especially with the last ball hundo in play.  Best matchups:  a pair of teammates could meet in the second round – #10 Pat Flaherty & #23 Chuck Labbee of Skee Ballin; #7 Scott Sinclair & #26 Tom Martin of Skeepleus.
McFly Bracket
With McFly himself out of the tourney, this is the most wide-open bracket in my opinion.  If seeds hold to form, we could be looking at another battle of teammates in the round of 8 to get to the final four – #6 Lisa "Ichiro" Ogawa vs. #14 Everett "The Baker" Phillips.  I wouldn't be surprised to see that matchup, but there are a handful of players from this bracket that could make the final four – #11 Patrick Bassett, #22 Stephanie Burgess, #27 John Greek, #30 Jody Brunner, #35 Chelsey Jensen.  I think another woman comes out of this bracket, putting at least two women into the final four.  I'm leaning Lisa Ogawa, but this bracket is a powerhouse of women!  Best matchup:  #14 Everett Phillips vs. #19 John Polischuck in the second round. [Editor's Note: Couldn't agree more. Get your popcorn ready!]
Pinball Bracket
Pinball gets a pretty nice draw with Chuck out of the way, and he'll be looking for redemption from playoff night.  #13 Brian Aldridge (he of the 900 perfect game and a total of 364…how does that happen by the way?) could pose the biggest threat, and don't sleep on #29 Bobby Zammuto who can roll with the best of 'em when he's on.  #12 Eric Mendes has to like his draw as well, but I think #21 Mike Simpson comes out of the bottom half to take on Pinball for a shot at the final four.  Ultimately, Pinball has been there before and will find his 50 to get the matchup he wants (fears?) with Shed.  Best matchup:  #29 Bobby Zamuto vs. #36 Allison Mallet in the first round.
Final Four
#1 Jenn Foxon vs. #4 Steve Robinson
The trash talking started between these two on Facebook on Thursday night, and I expect it will continue for this match.  Pinball tries to compare himself to Shed, though he hasn't been able to hold a candle to her this season, so this could be the ultimate redemption for him.  As I said before, this is Shed's tournament to lose and I think she lays the smackdown to Pinball yet again.
#2 Derek Morgan vs. #6 Lisa Ogawa
Lisa really took a step forward this skeeson.  Already one of SkeeBoston's top rollers, she picked up her hundo game this season to push her into the upper echelon.  She'll need her complete game to take a run at arguably the best roller in SkeeBoston history in Barfs.  You heard it here first, I think this marks a turning point in the history of the league as Lisa will prevail in an epic battle making it an all-woman final.  Sorry guys, better luck next skeeson. [Editor's Note: All girls final is never happening. Lisa will be in rare form. I like Pat Flaherty to make a run.]
#1 Jenn Foxon vs. #6 Lisa Ogawa
Lisa will put up a good fight, but in the end Shed's game is too dominant when she is on point for anyone to come close.  It's been two skeesons coming now, and this is where Shed finally puts it all together to become SkeeBoston's first female high roller and bring some long overdue credibility to Wednesday night!
Now that this has been committed to paper, it's time for everyone to go out and prove me wrong!  Good luck to all of the teams and rollers on Super Saturday – it will be the best day of your life that you will never remember.   
Season 7 High Rollers Report