Season 5 Playoff Picks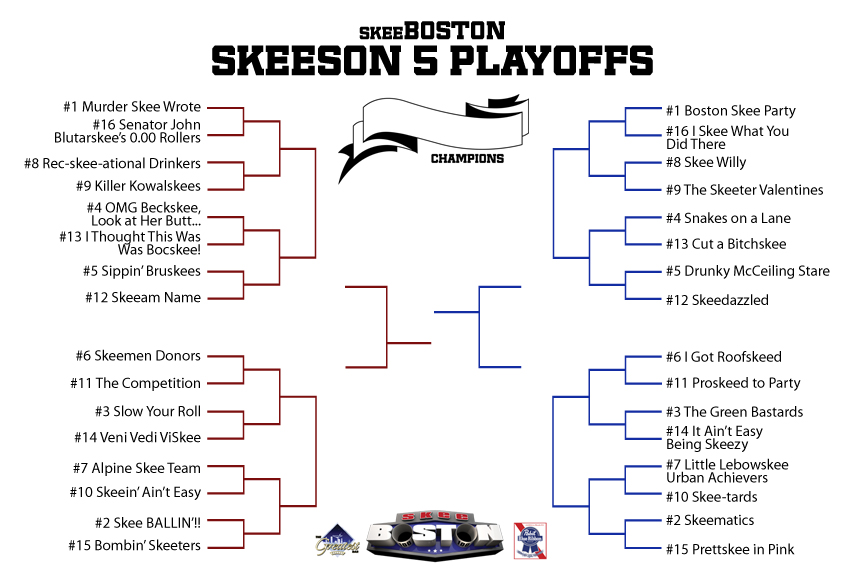 The Season 5 team playoff bracket has officially been released.  This is the week that skeeball gets a little more serious.  We are talking bracket style, single elimination, last team standing wins a big-ass trophy with a skeeball on top serious.  Yeah buddy!  The top two teams from each night advance to Super Saturday where the winner of Wednesday night will face off against the winner of Thursday night in a brawl for the champions ball.  You better get your popcorn ready kids; the Season 5 playoffs are going to be epic.  And without further ado, here are my Season 5 playoff picks.
Wednesday Night – The top half of the bracket is pretty interesting.  I see Murder Skee Wrote using round one as a warm up roll and bouncing the rookskee team of SJB0R (no chance I'm typing out that team name).  I'm picking the Killer Kowalskees (although there is a Celtics game, so who knows what this team will look like) in a slight upset sending the rookskee squad Rec-skee-ational Drinkers back to the bar.  The next matchup is my first huge upset of the tournament.  I'm taking "I Thought This Was Bocskee!" in the first round upset.  These guys have been lighting it up on the lanes and are going to be the FGCU of skeeBOSTON.  I will take shed and Sippin' Bruskees over Skeeam Name to round out the top half of the bracket.  In the bottom half, I'm picking Slow Your Roll, Alpine Skee Team and Skee BALLIN'!! to advance to the second round, but I'm picking "The Competition" in an upset of Skeemen Donors.  A little inside information says they aren't going to have a full squad on Thursday.
In the second round, I'm taking MSW, Bocskee, Slow Your Roll, and Skee BALLIN'!! to advance.  My only upset here is Bocskee.  I told you, FGCU baby!  If Amanda Marcum shows up to root these guys on, I'm giving them 100 bonus points too.  Lucky for MSW, she is in southern California right now.  The magic runs out and MSW advances to Super Saturday.  The second team advancing will be Skee BALLIN'!!, in an epic match that goes down to the last ball… Pat sinks a hundo and somehow talks the bartenders into playing the mighty ducks theme song.  Epic.
Thursday Night – The 1st round on Thursday isn't going to be as exciting as Wednesday.  Many of these teams have been around since the beginning… and while I think a couple matches will be close, I'm going all chalk.  In round two, Boston Skee Party will be pushed by Skee Willy (as long as they can get in their heads… queue the smack talk) but should move on pretty easily.  Steve and Coozie have been up and down the last couple weeks and the next matchup depends on which Coozie shows up and if the hundos are falling.  I'm taking the experience and Drunky to move on in a not so close match.
In the bottom bracket Skeematics will send LLUA back to the "Bags Arcade Game" (P.S. This has got to be the dumbest arcade game ever.  I will NEVER play it.  EVER.  The name of the game is Cornhole and if anyone wants to play some real Cornhole, come get some.)  Upset Alert!  I'm picking I Got Roofskeed to win their first big match in team history, taking down the two time defending champions Derek and Mike.  One thing we have learned from the past is that the best two teams will probably not (read: not gonna happen) make it to Super Saturday. In the final four on Thursday night, Drunky McCeiling Stare will shock Boston Skee Party and Skeematics will squeeze past I Got Roofskeed to advance to Super Saturday.
The Final Four – So there you have it, Murder Skee Wrote versus SkeeBALLIN'!! and Drunky McCeiling Stares versus Skeematics.  I fully expect both of these matches to come down to the last frame or two, if not the last ball.  In the Brawl for the Champions Ball and title of best skeeballers in Boston, I'm picking Murder Skee Wrote and Skeematics to play for the Championship and Skeematics to become skeeBOSTON's Season 5 Champions.  You heard it here first, BOOM!