Season 4 High Rollers Report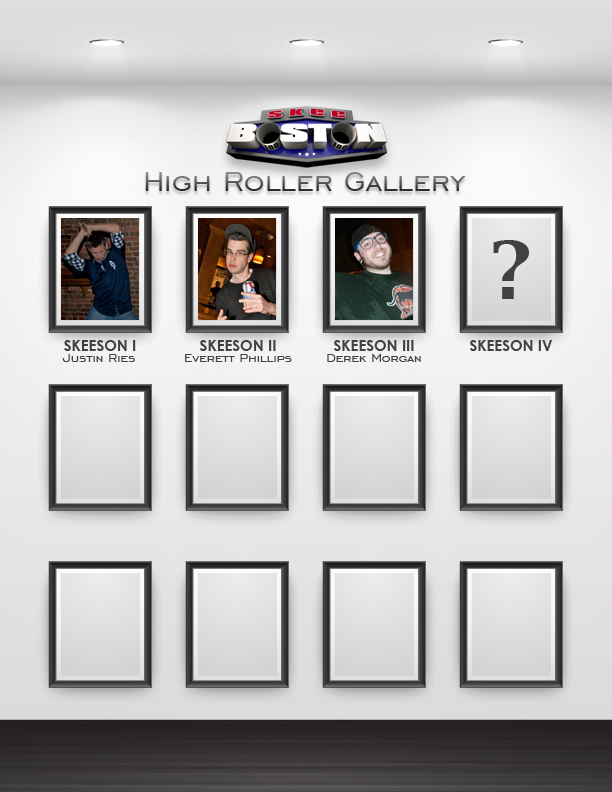 [Editor's Note: Each season I handpick one of the veterans to write the high rollers report.  The report is a breakdown of the individual matchups on Super Saturday and its sole purpose is to provide a little entertainment the day before Super Saturday.  As always, the "ghost-writer" has been granted anonymity. This Season I have also asked a 2nd ghost-writer to do a little breakdown of the wildcard.  With that said, I present to you the Season 4 Wild Card & High Rollers Report.]
—
Hello my fellow Skeeball ladies and gents. Ghostwriter here, reporting
for duty. You didn't think I'd let Rachel and Chuck steal the
spotlight for the entire skeeson did you? Mwahaha (I may have just
"evil" laughed out loud at my local dunkin donuts), but I cannot
contain my excitement. The glorious day we have been waiting for all
skeeson is upon us, the pot of gold at the end of the rainbow, the
icing on the We Make Cupcakes, Cupcakes (your welcome Everett), the
little yodeler reaching the top of that mountain on the price is
right…. Super Saturday!!!
Chuck and Rachel have given us their two cents (that's one cent per
person for the team members of "I Was Told There Would Be No Math").
However, they failed to comment on a very important prediction. The
underdogs of Super Saturday, that's right I'm talking about the Wild
Card Tourney. The very definition of wild card includes words like
"unpredictable" and "uncertain", but I beg to differ. So without
further ado, here are my picks:
Wild card
Noun
1.       A playing card that can have any value, suit, color, or other
property in a game at the discretion of the player holding it.
2.       A person or thing whose influence is unpredictable or whose
qualities are uncertain.
[Editor's Note: To conserve time and space, I am only showing the final four picks for the Wild Card.  Besides, it was almost like asking Jay Bilas to make picks… all chalk baby!  No chance 4 of the top 5 seeds all make it to the final four. Dear ghost-writer, please go re-read your definition that you posted above… specifically number two, key word: unpredictable.  The Wild Card winner has yet to be a male… so make it happen again ladies!]
Wild Card – Final Four
#1 Eric Sigel vs. #5 Rachel
Eric has been putting up solid scores all skeeson and managed to
break his 300 seal last week.  Rachel has found her hundo's recently, her make up rolls on Sunday were cray cray.  Eric ends Rachel's run and moves on to the finals.
#2 Ben vs. #3 Joanne
Joanne, aka the "Super Sub" is not on any official team, she's a free
agent who has subbed so many times on both Wednesday and Thursday
nights, that she's earned her self a third seed spot in this tourney.  I'm actually surprised Ben ended up in the Wild Card brackets, this rookskee is clearly a natural at Skeeball.  This one will be close, but Ben pulls out the win.
And the Wild Card Winner is…. BEN!
—
And now what you have all been waiting for…
Ladies and Gentlemen, it's the Season 4 high rollers report and without further ado, the first 64 match ups.
#32 Kelly Egan vs. #33 John Paul Douglass
This is the closet match up in respect to regular season average.  There is only a .28 difference between the two–that's less than 2 points over 8 weeks, 80 frames, 720 rolls.  They both ignore the hundo and both put up season highs in week 8.  Kelly's was higher with a combo to boot, so she gets the pick here.
#31 KC vs. #34 Jon Martin
Jon has the higher single night score of this match up, but KC has been a lot more consistent.  If Jon is on his game, he should take this win, but I value consistency more in this game. It should be close, but KC will win.
#30 Diana Weinstock vs. #35 Eric Mendes
I saw Eric try to hit hundos once…he rolled a 9. If he can figure them out before this match he could pull off a small upset. Eric has never fared well in these tourneys, and that paired with Diana putting up her best scores on make-up night should give her enough momentum to pull off the win.
#29 Chris McCarthy vs #36 Will McLean
The long awaited battle of the Mcs.  This will finally determine once and for all who is the best Mc in the skeeBOSTON universe (its Brendan McGinn btw).  This could shape up to be a good match up either way.  Will made it all the way to the finals and took second place so he knows how to handle himself, while Chris is young and reckless.  Will gets the win and tries to get himself back into the finals.
#28 Andrew Newton vs. #37 Matt Czarnecki
Andrew has cooled off a bit after his big 375, while Matt made it onto our list of season highs in week 8. Matt shows his 50 streak wasn't a fluke, but Andrew will pull enough hundos from his pocket to win it in the 3rd frame.
#27 Allison Mallett vs. #38 Ian Palmer
Our first member of the rookie phenom team skee ballin runs into one of our long time vets.  Allison has been shooting hundos since season one and there is no reason she would be stopping now.  Ian is also a hundo shooter, but his high frame for the season was 45, while Allison has always been in the 70s.  It will come down to hundos and Allison will take this one.
#26 Lindsay Ann vs. #39 Stephanie Pakula
Stephanie is a veteran to these things.  This is her 4th super Saturday now, but Lindsay isn't new to this herself.  Stephanie ended the season hot like many other rollers did.  Too bad Lindsay wasn't one of them.  Stephanie will relive her glory of taking Derek out of the season 2 HRT and moves onto the next round giving out piggyback rides along the way. [Editors Note: I like the upset pick, but The White Devil doesn't care about the HRT… Turtle moves on.]
#25 Stephanie Burgess vs. #40 Matt Weinstock
Matt is a solid up the middle roller and always has been.  He is never tempted by the hundos.  Stephanie and her sister Stacey have hit more hundos than any other sibling combination in skeeBOSTON.  Stephanie will need a solid game up the middle to be able to take 2 of 3 from Matt and I don't see that happening.  Matt moves on.
#24 Mike Mastovich vs. #41 J.P. Wilson
Mike made it to the finals in season 1.  He has had good luck in the past season also.  J.P. has been working on his hundos, but it's too little too late as Mike solid 40′ and 50's will bring him a first round victory.
#23 Sam Reidy vs. #42 Anitra
This one will be closer than the rankings would lead you to believe.  Anitra had a very strong make up night and Sam was not his usual self this season.  He has been lost ever since the Purple Shamrock closed down and this may be affecting his skeeball game.  Sam has a moment of clarity before pre blackout Christmas party and moves on.
#22 John Polishchuk vs. #43 Conor Farrell
Again, Conor is one of our rollers that ended this season on a nice scoring streak, but he got a tough draw against John.  I am not sure anyone is more focused this year than John is.  Taking the combo title for Thursday will help him in this contest as it will be a battle without hundos.  It will go 3 frames and at least 2 combos will be rolled.  John takes it.  [Editors Note: Though draw for Hawk here.  Conor is going to be focued… Hawk won't be able to handle the pressure in the 3rd frame and Conor will pull off the upset.]
#21 Brian Aldridge vs. #44 Phil Flynn
During super Saturday free skee, Brian will roll a few games with 40+ scores.  We all know that he hates any form of brackets and boycotts them by refusing to roll well.  Phill Flynn boycotts everything because he hates everything but Bieber.  This may be Brian's year as he moves on past Phil who is content to drink PBR, take photos, and listen to Bieber the rest of super Saturday.
#20 Pat Flaherty vs. #45 Greek
Rookskee of the Year Pat goes up against a Wednesday rookskee rival in Greek. Both of them lead their rookie teams into the playoffs and both had a very impressive season for rookies.  Rolling up the middle, Pat will have enough to win.  He'll be able to call on the hundos if he find himself in a tough position and move on.
#19 Michael Simpson vs. #46 Christina Cusolito
Friend vs. Friend in this match up.  While Coozie has been heating up, Mike has been cooling off.  Coozie should start off frame one with her hundos and put Mike in a tough position.  If she hits them, she may pull off the victory and earn herself the biggest first round upset.  Mike has been to the final 4.  He has a chalice.  I can't go against that.  Watch out with this one though.
#18 Jason Mora vs #47 Ted Pearce
Drunky McCeiling Stare himself.  A man so drunky and ceiling starey that there is a team named after him.  If his team was in the final 4, he would be on a strict drinking limit and Jason would take the win. However, his team is out so there won't be any drinking sanctions placed on Ted and Jason should take the win.  (Am I trying to say in either scenario, Jason will win?  Yup. [Editors Note: Ted Smash will be in full effect by the time this match takes place… easy win for Jason.]
#17 Jody Brunner vs. #48 Bobby Zammuto
The HRT is on Saturday, December 15th.  Jody is celebrating her birthday Friday, December 14th.  This could cause problems for her performance on Super Saturday.  As far as I am aware, it is not Bobby's birthday, but he will need some kind of a gift to get past Jody.  Maybe she misses her hundos when she needs them, but I don't think that's going to happen.  Jody moves on and eats a birthday cupcake, or 6.
#16 Tim Weaton vs. #49 Pat Guiton
It always happens at some point that two teammates and dear friends face off.  It usually is not in the first round, but it does happens.  Tradition states that the winner buys a shot for the loser.  Pat beat Tim's score once this season, but it won't be good enough to keep this match close.  Tim wins in two.
#15 Justin Ries vs. #50 Andrew
It is our skeeson 1 high roller himself Justin "Space Jump" Ries against another one of skeeson 4's impressive rookies.  Andrew is one of only 2 rookies to knock down a 50 streak, something that Justin has not done.  It is a nice feat, but it won't be enough to take down a past champion.
#14 Lisa Ogawa vs. #51 Courtney Smith
Our second all girl battle pits two accomplished rollers against each other.  Lisa had this years 40 streak award locked up at the half way point this season and then decided to not hit them any longer. Courtney posted back to back personal bests with a new improved rolling style to end her regular season.  Lisa will find her 40s and move on past Courtney.
#13 Stacey Burgess vs. #52 Michelle
Stacey is up to 4th on Wednesday–a big jump from last skeesons 13th.  However, Michelle moved from 63rd on Thursday up to 31st.  Both very impressive single season improvements.  Stacey walks away with the win here as she is one of the all-time top hundo rollers.
#12 Frank Davoli vs. #53 Jenn Minogue
Unfortunately Frank had a big drop off this season falling from the overall 3 spot down to 12th.  Jenn is the top hundo roller on her team with an impressive 60 total.  Frank hit 80 total and I feel like this one could come down to the hundos.  Frank wins, but it will be closer than it needs to be.
#11 Thomas Martin vs. #54 Jeff
Tom put up one of his worst scores last week, but it was due to the lack of hundos hit.  Up the middle he should be strong enough to pass Jeff and if need be hit enough hundos to win.
#10 JayJay Ortega vs. #55 Sean Ellis
Another first round match up pitting teammate vs teammate.  This will play out very much like our previous one with JayJay taking down his friend Sean.  JayJay will roll an 81 in his hundo frame and then promptly blackout.
#9 Brendan McGinn vs. #56 Craig Pfister
Brendan is capping off his best season to date and rolled one of the highest scores skeeBOSTON has seen with a very impressive 416. Craig may put up a fight, but it's going to be tough to take down a hundo shooter when they are hot.  McGinn will roll an 81 in his hundo frame and then promptly blackout.
#8 Scott Sinclair vs. #57 Heather Ryan
Now that we are in the top 10, it is tough to pick an upset.  Heather is a former wild card bracket winner and it's nice to see her moving up into the HRT bracket.  Unfortunately, she didn't climb high enough and has to face Scott.  It will be a nice old school up the middle no hundo match that Scott should be able to handle without a problem.
#7 Joe Stromer vs. #58 Huff
Joe started rolling and hitting hundos this year and has had himself one heck of a season.  Huff hasn't broken 300 this season and it's going to be tough to take down Joe with a high score of that.
#6 Steve Robinson vs. #59 Ross
Steve came into this season with one goal–to be a top 5 roller.  He missed it by one spot.  If he isn't blasted on redbull vodkas, he will try to take out some of that disappointment here in the HRT. Ross has had himself a solid season as a rookie breaking 300 a few times, but it won't be enough to take down a HRT vet like Steve.
#5 Jenn Foxon vs. #60 Jan Harrington
Jan sneaks into the HRT as the last person before we get into the wild cards.  She has had some good games with hundos, but recently Jenn The Shred has found her 50.  The most dangerous weapon in a HRT.  Mix it up with the hundos she is usually pretty solid with and she looks to be a real contender.  Jenn sends Jan and her coozie packing.
#4 Chris Martin vs. Wild Card 1
I think Adam will walk away the wild card winner this year and that would put him up against Chris.  You don't want to have to face any of the top 4 rollers, but Chris is 4th for a reason, and it was his inconsistency early in the season.  Adam has a few combos and can hit hundos, but Chris is on fire right now and I don't see him stopping any time soon.
#3 Chuck Rogers vs. Wild Card 2
Joanne takes a tough loss in the wild card finals only to land a match up against Chuck.  He had more 50 Streaks this season then the rest of the league added up.  I am not sure how you can beat that.  Maybe Chuck is distracted keeping Ted off the bottle and loses a frame, but I can't see him losing the match. [Editors Note: Chuck is my pick to win it all… even without hitting hundos.]
#2 Derek Morgan vs. Wild Card 3
Rachel squeaks out a win over Ben for 3rd place wild card with hundos.  Her hundos are not as strong as Derek's.  He locks her out worse than the NHL.  Derek has his sights set on back to back HRT trophies and he will be tough to beat.
#1 Everett Phillips vs. Wild Card 4
Ben Fountain is the last person out of the wild card and he gets the pleasure of facing the #1 seed. Everett's team could be contending for a chalice, but it should not be enough of a distraction to lose in the first round.  You never know, he lost in round 2 last year to The Thrill.
Round of 32
#1 Everett Phillips vs. #32 Kelly Egan
Their teams faces each other twice this season and Everett took the upper hand each time.  The 50 is quickly becoming the weapon of choice for the top rollers and while Kelly can hit some of them Everett should be able to hit a few more and go with a hundo when needed.  He wont stumble this year against the 32 seed and moves on.
#2 Derek Morgan vs. #31 KC
Derek is always on a mission for more hardware to add to his trophy case.  KC is here for the free beer.  Derek will get stuck on lane 1 this match, roll poorly but still manage to win 2-1 hopefully on his way to being a back to back HRT champion.
#3 Chuck Rogers vs. #30 Diana Weinstock
Wednesday rivals facing off here in this matchup.  The former Alpine Skee Team members streamlined their team and improved quite a bit behind the solid rolling from Diana.  Both of these rollers killed their makeup nights with personal bests, the problem is that Chuck's personal best is more then 60 points higher, he wins here.
#4 Chris Martin vs. #36 Will McLean
Last skeeson Will took down the #1 seed.  He has an easier match this year but its tough to see him taking down Chris.  If he somehow does I can see another run to the finals for him. Chris stepped his hundo game up quite a bit this year and it will be enough to help him move onto the skeet sixteen.
#5 Jenn Foxon vs. #28 Andrew Newton
This match should be a fun one to watch.  Jenn can get hot and hit quite a bit of 50's but going out on a limb and saying today will not be that day.  She still has her hundos but so does Andrew whos up the middle is stronger. The Shred is the first top seed to go down and Andrew moves on.  [Editors Note: Shed wins this one easily… she is on fire lately.  Sorry Andrew!]
#6 Steve Robinson vs. #27 Allison Mallett
Steve is working on his 4th red bull vodka by now and things are getting blurry.  Allison should lead off with a big hundo frame and put the pressure on Steve.  He will make the right play, take the loss saving his hundos for the 3rd frame and walks away with a win and a new RBV.
#7 Joe Stromer vs. #39 Stephanie Pakula
Pakula will be in Joes ear so much before this match he may be in tears.  There are only a few people who may be more intoxicated then her at this point and Joe isn't one of them yet.  He pulls it together and takes her out in style with a combo and a 63 in his hundo frame.
#8 Scott Sinclair vs. #40 Matt Weinstock
Scott is king of the late night cash game.  Not because he wins often but because he is always involved in them.  He loves the pressure and he always steps up to challenges   Scott finishes what his teammate Chuck started and they eliminate the Weinstocks.
#9 Brandan McGinn vs. #24 Mike Mastovich
The newest member of the 400 club is on a roll but Mike isn't someone he can look past.  He went all the way to the 5th match against Justin in the finals of this tourney in season one.  That was back when no one rolled hundos however.  Mike is forced to go for hundos and they just don't drop for him, a win for McGinn
#10 Jay-Jay Ortega vs. #23 Sam Reidy
Hundo champion Jay-Jay continues his rain of terror as the hundos keep falling.  Sam tried to confuse him with lawyer talk and files an injunction against the abuse but Jay-Jay has no time for games.  Sam promptly blacks out and heads off to his Christmas party in shorts.
#11 Thomas Martin vs. #22 John Polishchuk
The Hawk vs. The Height. There will be a lot of smack talk going on before this match. John loves to talk up a big game but he always finds himself struggling to back it up.  Tom has the hundos, something John may never have and in a game of 40s and almost combos, the hundo reigns king. Tom Wins, Tom Wins.  [Editors Note: If Hawk makes it to this match, I agree with the pick!]
#12 Frank Davoli vs. #21 Brian Aldridge
I guess someone has to win this one.  These are two of the top rollers over the last 4 season but they tank in these events. I think frank even lost in the first round as the 4 seed last year. I would suggest all rookies divert their eyes from this match, Brian walks away the winner i guess.
#13 Stacey Burgess vs. #20 Pat Flaherty
Our highest rated rookie this season sadly has played his last game.  Stacey can hit a 72 in her hundo frame no problem and can go last ball hundo in the others to fend off the last chance of a rookie taking the HRT.  Pat will give it a good try but it wont be enough.  [Editors Note: I like the Rookskee Pat in the upset.  Watch out Stacey, this kid can roll.]
#14 Lisa Ogawa vs. #19 Mike Simpson
40s vs 50s. This will be a good show down except for that fact that they both have dropped off at the end of this season. I personally hope hundos get ignored and they both roll up the middle so that we can see once and for all what is the greater hole to shoot for.  The answer? 40s, Lisa wins.
#15 Justin Reis vs. #18 Jason Mora
Justin loves competition, he will bet on anything.  Jason loves drinking, he will drink any beer.  These two facts mean that Jason will be having a gay old time while Justin is mister serious.  Justin hits 1 hundo more then Jason does and flexes his way to the next round.
#16 Jody Brunner vs. #17 Tim Weaton
This has been the best season of the careers for both of these rollers.  Tim actually took last season off and some would consider him the comeback player of the year and Jody may be the most improved roller.  All that acclaim is nice but it really means nothing here.  Tim's hundos beat Jody's enthusiasm.  [Editors Note: Tim is going to make a deep run tomorrow… mark it down.]
The Skeet Sixteen
#8 Scott Sinclair vs. #9 Brendan McGinn
By this point in the day McGinn is singing Disney songs with the Pantskees in the corner. The only problem for Scott is this is when McGinn is at his best.  Brendan will hit a combo while humming a whole new world.  Scott asks Ted for his head phones to try to black it out and rolls about as well as Ted.  Brendan "Princess Jasmin" McGinn's wins.
#7 Joe Stromer vs. #10 Jay-Jay Ortega
The reason Mr. Stromer is this high on the rankings is because of his newly round [Editors Note: Did you mean found?!] hundos.  I am not sold that he can hit them under pressure.  Jay-Jay on the other hand has been rolling hundos since season 1 and is back to back hundo king on Wednesday nights.  Combined with his new taste for 40 streaks he wins.
#6 Steve Robinson vs. #11 Thomas Martin
If anyone else is counting Steve is 7 red bull vodkas deep now.  Tom senses Steves weakness and strikes with 50s and 100s putting Steve in an all or nothing hundo frame.  Steves hundos rattle around like the ice in his now empty drink as Tom sends him off to play pinball where he reigns supreme.  [Editors Note: Not so fast my friend.  The pinball machine is calling, but Pinball Steve isn't ready to succumb just yet.  Steve hits a last ball hundo in the 3rd frame and moves on.]
#21 Brian Aldridge vs. #28 Andrew Newton
Our lowest seeds left get locked up in a tight battle.  They are both a bit nervous being this deep into the tournament knowing they are only 3 wins from the finals. Nothing great about the scores here as they used all their magic to get here.  Happy he did not have to roll on lane 2 Brian squeaks by with the win.
#4 Chris Martin vs. #13 Stacey Burgess
A hundo battle at its finest. Chris will use his hundos to take round 1.  Stacey will use hers to take round 2.  They are a pretty fair matchup down the middle and the question will be who can hit the lastball hundo.  I think Chris can handle the pressure and hits that hundo proving why he is a top seed and moving on.
#3 Chuck Rogers vs. #14 Lisa Ogawa
The few Wednesday rollers left in a sea of Thursday supremacy forced to battle each other.  For every 40 Lisa hits Chuck nails down a 50.  It's tough to see how someone can put a stop to the storm surge Chuck as he takes down another quality player.
#2 Derek Morgan vs. #15 Justin Reis
These two rollers may have played more head to head late night skee games then anyone.  Justin always rises to the competition but it is just too much ground to make up today as Derek goes up 1-0 and in the 2nd round buries Justin with hundos.
#1 Everett Phillips vs. #16 Tim Weaton
Tim is basking in the glory of his new found hundo game.  The problem is if he manages to take down Everett with that he has to beat him twice up the middle. It's a solid battle but Everett gets a few lucky bounces with the 50's and walks away a winner here.  [Editors Note: The #1 seed falls in an epic overtime battle.  Lucky for Everett, he is still in the Chase for the Chalice.]
Skeelate Eight
#4 Chris Martin vs. #21 Brian Aldridge
Brian has had an impressive run to get into the elite eight while taking down some tough competition along the way, but like I said before, these things usually don't go well for him.  Jody and Courtney get into a fist fight during the match, but the guys don't seem to notice.  They get themselves in trouble and spend the night on the couch, but at least for Chris he gets the win. Christmas presents are getting returned.
#3 Chuck Rogers vs. #11 Thomas Martin
I don't think the top 4 will actually make it to the finals, but it's hard to pick against them on paper.  Tom ended the season poorly, but his high scores match what Chuck regularly puts up making this an interesting match.  Tom can use the hundos as a life saver, but Chuck showed he nails the 50's when he needs to. Unless Tom pulls out his first 50 streak of his skeeBOSTON career, Chuck wins and is the last hope for Wednesday night.
#2 Derek Morgan vs. #10 Jay-Jay Ortega
Jay-Jay is distracted by Derek's mustache during the whole match. Someone will be putting up an 81 in this match and I have a feeling it's going to be Derek "Pringles Can" Morgan.  Jay-Jay just doesn't have the 50 game needed to beat out a roller like Derek.  He vows to train harder for next season then he did for the Boston marathon and begins pounding shots. [Editors Note: I'm going with Jay-Jay in a huge upset.  *Derek storms out*.  An all Wednesday Final could be shaping up!]
#1 Everett Phillips vs. #9 Brendan McGinn
By now, Brendan is bombed and insists the more drunk he is the better he rolls, but we all have a tipping point.  He has moved onto the B side of his Disney karaoke tape and is singing more obscure songs like "I'll make a man out of you" from Mulan.  Everett is however preparing for a match in the finals for the chalice and remains focused with some lucky last ball hundos and moves past Brendan.  [Editors Note: If Tim Weaton takes down Ev in the previous round, he moves on here too.]
The Final Four
#1 Everett "The Baker" Phillips vs. #4 Chris "Seabass" Martin
A very boring bracket having the top 4 all make it, but these guys live in the 400 club.  They belong here.  Towels are monogrammed with their initials and unless someone steps up and takes it from them, there is no reason they don't make it here.  Chris has the edge on the hundos here.  Everett ended the season cold with the hundos being cruel.  Chris used them big time hitting 72s all over the place.  If Chris takes the hundo frame he will need to step up big up the middle.  He's no stranger to combos and 50s–he can do it, but probably won't.  Ev saves his hundo frame till the end, hits a few and finishes up the middle for the win.  [Editors Note: Tim Weaton has his eye on much more than the 'Comeback Skee'er of the Year Award'.  He knocks out Chris and moves on to the finals.]
#2 Derek "Beers" Morgan vs. #3 Chuck "Pants" Rogers
Chuck's hate for the hundos has never been more clear then it will be after this tournament.  He lost in the finals season 2 because of them and now he has to face the most feared hundo roller.  A poor score of a 25 can quickly become a respectable 35 with a last ball hundo for Derek.  The only problem here is that Chuck has rolled with scores over 40 in his last few games without the crutch of a hundo. Derek gets a 1 game lead by default because of his hundo frame, but I can see Chuck taking the other 2.  Chuck wins and sets up a rematch from season 2.  [Editors Note: Jay-Jay vs. Chuck in my book… Chuck ends the Cinderella story.]
The Finals
#1 Everett Phillips vs. #3 Chuck Rogers
Chuck hates that he lost this in season two.  He hates it even more that it was because of the hundos.  He probably hates it even more that Everett bakes delicious cupcakes.  Best of 3, Everett would almost always take this match up.  Best of 5 he can call on the hundos once and only once.  Even then Chuck could match a 45 frame with a 50 streak and he has been known to hit a few of those.  It should go all 5 frames again and we will hopefully see some impressive scores from these two rollers.  Will Chuck wrestle some glory back to Wednesday night or will Thursday shadow over its little brother?  History says no: Thursday has won every HRT thus far. Chucks sole appearance has been the only one for Wednesday.  The chalices all belong to Thursday teams.  However, tonight Chuck will be the champion for Wednesday and bring home a trophy to his Wednesday brothers.
[Editors Note: Great pick in the end… I see Chuck celebrating when it's all said and done.  Thank you to our ghost-writer for taking the time to break down all the picks… skee you on the lanes!]
Season 4 High Rollers Report