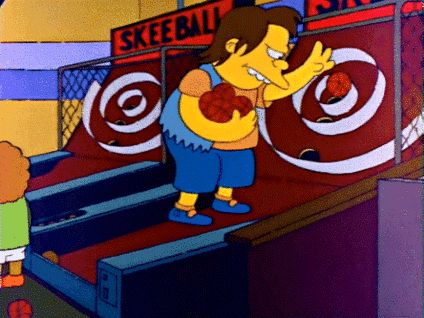 The Season 19 High Roller Report is here.
[Editor's Note: Season 19 High Rollers Report – The top two seeds fell and a #15 seed advanced to Super Saturday. Another crazy playoff night is in the books. It's going to be a wild one today too. Each season I handpick one of the veterans to write the High Rollers Report. The report is a breakdown of the individual match-ups on Super Saturday and its sole purpose is to provide a little entertainment the day before. If he/she takes shots or jabs at you it means they like you. It's all in good fun. As always, the guest writer has been granted anonymity. So without further ado, I bring to you the Season 19 High Rollers Report. ]
Oh my gosh, everyone it's finally here! I get to write anonymously about all of you with absolutely zero repercussion. I've been waiting for this moment for my thirty years of existence and I didn't even know it [Editor's Note: you are setting the bar high, don't disappoint me].
Let us jump right into the bottom right hand side of the bracket. [Editor's Note: I forgot to tell you that we usually name the brackets but you should have also known. Strike one.] Is this quarter of the bracket upset city or what?! No, it's not. I hate to break it to you, but if you're the lower seed of a matchup in this fourth you should just relinquish your roll and belly up to the bar so you don't miss out on Ev's cupcakes. The only way someone gets upset in this bracket is if Robo breaks a hip walking up the stairs Saturday morning. Wait, didn't Robo just have a birthday? I'm taking Ethan in an upset here. It's all for not though as Brian is going to send him to the cupcake line immediately after. I've got Steve and Brian going toe-to-toe in the Elite eight with Brian pulling out a victory here as Steve has probably been drowning his sorrows with one Redbull Vodka after another since choking (yet again)[Editor's Note: shots fired!] in his team's final four match. Brian to the Final Four.
The top right quadrant of the bracket is a little more complex. For instance: I don't know who this "Wild Card #3" fella is or how to find his/her lifetime stats, but after watching Everett go belly up on Thursday night there's no way (s)he can be worse, right?[Editor's Note: odds are this will be a she, or Polischoke. Did anyone realize he is in the wildcard this season?] I'll reluctantly take Everett I guess, but I think he gets upset by Johnny Hunt in the round after. Another matchup to watch for here is Dawson vs. Carr. Can their Bromance withstand a clash like this so early in the tournament? Will Dawson have already drank TGB out of 'Gansett? Too many factors here to take into account, but I like Carr in this match-up. With the way things shake out up here, I think Johnny Hunt and Ben Fountain represent the Elite Eight from this section with Ben Fountain exacting revenge for the absolute beat down he took Thursday night at the hands of Hunt and Co. [Editor's Note: pouring salt in the wound!]; Ben to the Final Four.
The Bottom left fourth of the bracket is Pat's to lose. Did I jinx it? Probably. [Editor's Note: Pat told me Thursday that he is going to win the HRT. I believe him.] Either way, there are a couple matchup's here that I have questions about; like the Melissa Taylor/Jen Kenely match. Kenely knocked down a few clutch shots in her playoff match against Lane Misconduct Thursday and I think she will ride that momentum to a victory in her first match. Unfortunately, Nick Weir will sent her back to the bar and complaining about the music in round two. In the Sweet Sixteen I see Max, Nick, Patty, and Dan Wohleber (provided there isn't a Gamecocks game within earshot) with Dan and Max squaring off in the Elite Eight. As long as there are no college co-ed bar crawls coming through TGB, I think Max keeps his focus and wins the match [Editor's Note: hahaha]. Damn, did someone say co-ed bar crawl? Someone keep an eye on Robo, please. Max to the Final Four.
Now for the top right quadrant of the bracket. The cream of the crop. This bracket is so intriguing to me because Devin has finally gotten the monkey off his back and won the MVSkee, but he also has a couple of trophies coming his way which means he has a couple shots coming his way. Will he drink too much and ruin his chances? Will Chelsea tell him he has to go home before he gets a chance to roll because he's too drunk? Yes and Yes. [Editor's Note: One thing is for sure, they will have separate tabs.] Wild Card #4 with a huge upset [Editor's Note: Whoa!]. Another good match to watch will be Mike Foxon and Chelsey Jansen. While I think it could go either way, I think the Men's bathroom runs out of soap and Mike refuses to touch the nasty skeeballs. Chelsey moves on here. With Devin out of the way early, Scott and Chelsey square off in the Elite Eight and Scotty Too Hottie helps her find her way to the cupcakes. Scott Sinclair to the Final Four.
Now for the Final Four: Scotty, Max, Ben and Brian. What a crew, huh? This field is ripe with talent, experience, and trophies. I think the Ben and Brian match is the most intriguing to watch. Mostly because in between rolls they're going to be relaying all the prime Pokémon Go spots around the city to each other [Editor's Note: facts]. Grown men playing kids games. What a couple weirdos. Anyway, back to my 1,000 word skeeball write-up. I think Brian withstands Ben's Seismic toss and sails on the back of Laprados to the finals. Now for Max and Scotty. This one is a tough one for me. I like Scotty here, although it is difficult for me to pick against Max and his vast improvement this season, I just think Scotty is too good here and too many 22 year old women have entered the bar for max to keep his focus [Editor's Note:this is cracking me up]. Brian and Scotty will square off in what will be a hotly contested final, but I think ultimately Brian and is going to be hunting for some hardware after a down year on the team side of things. It will be close, but your champion here will be Brian Aldridge.
That's all I've got for you folks. Good luck out there to everyone and I can't wait to see what Saturday
has in store!
[Editor's Note: Great write-up. Skee you all in a few hours]
Season 19 High Roller Report