Season 16 High Rollers Report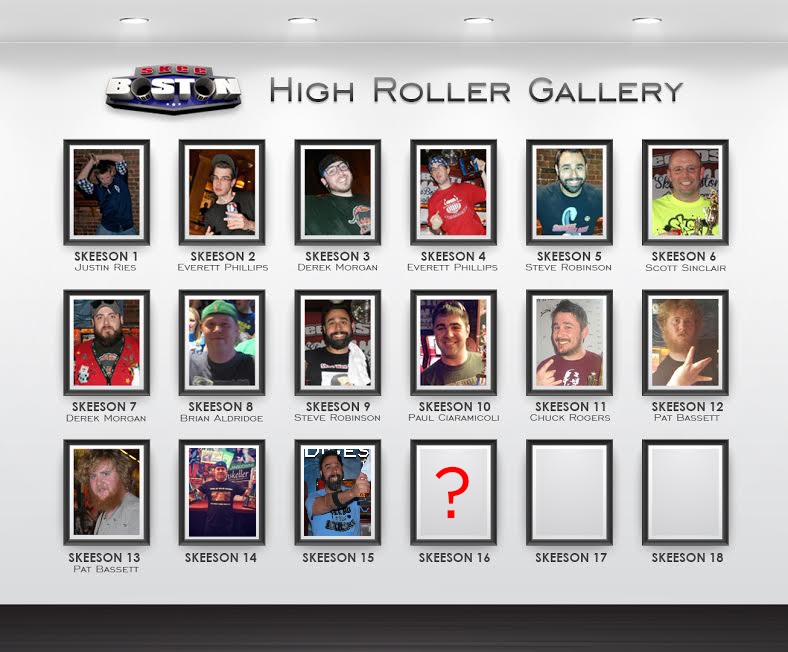 Season 16 High Rollers Report – [Editor's Note: Each season I handpick one of the veterans to write the High Rollers Report. The report is a breakdown of the individual match-ups on Super Saturday and its sole purpose is to provide a little entertainment the day before. If he/she takes shots or jabs at you it means they like you. It's all in good fun. As always, the guest writer has been granted anonymity. So without further ado, I bring to you the Season 16 High Rollers Report. ]
W.
O.
W.
That was a Thursday night to remember. I heard someone say "Instant Classic" — wildcard upsets, last ball hundos, even f@#$ing overtime. I can honestly say I don't think another night will ever live up to the drama of last night [Editor's Note: don't be silly]. Despite all of this, most of us (Hi Pinball!) have Super Saturday's HRT as our only hope for glory this season [Editor's Note: Pinball already getting called out in the first paragraph, I like where this is going already 😉 ]. Let's not waste any time, and get right down to it. Bracket by bracket, I'll be breaking down the winners, the losers, the best matches, the choke artists, and the ones to watch. And away….we….GO!
Wild-Card Bracket:
I'm going to keep this simple, and just tell you right now that Polischuk is winning the Wildcard, because WHY NOT POLISCHUK. The other three wildcard entries to the HRT will be Heather, Mike Gallo, and Chris Waltrous. Don't be surprised if Chris pulls off the win in the wildcard though, he has been HOT lately. [Editor's Note: It appears this is the only this you kept short and simple… judging by the copy paste I just did. Buckle up kiddos.]
The Busted Bassett Bracket:
This is a BRUTAL bracket. Hands down, in my opinion, the toughest of the bunch. Patty (Alan) meets Chuck in the early goings and is going to make for a great match. Stromer and Jan do the same thing, as do Big Play Ray and Robo. Who wins? See below:
The Choke Artist: Roberto (Robo) Arguello has had his best season yet, but the HRT will get the best of him. By HRT time, he will be seeing double having celebrated his first Team Championship. It is bound to happen right? Who messes up their math [Editor's Note: TWICE] in the playoffs? Cough. Jerry. Cough. [Editor's Note: Seriously. How Jerry is still in charge of math blows my mind.] You don't give teams like Trickskee second chances. Rant over. But even if Robo isn't buzzed, did you watch Ray last night? He is LOCKED IN.
The One To Watch:
Kyra has been hot and cold at times this season, but I predict she gets hot and gives Chuck a run for his money in the early goings [Editor's Note: I officially hate the word "goings"]. Once she finds her 50, that girl is a machine. I'd also be remiss if I didn't recognize her opponent, Andrew Costello. He practically dismantled [Editor's Note: read demolished] Steve Robinson on lane 3 last night to upset the #3 seed by rolling a 468, and his previous frame high was a 409. If he can handle the pressure, he has as good a chance as anyone.
The Match of the Bracket:
This is a no-brainer. Barring a Kyra upset, it's Chuck vs. Patty in a fight to the death. This one goes 3 frames, and Chuck brings it home, knocking out #1 seed Patty so that he can go to the bathroom and transform into Alan [Editor's Note: I hope not].
Winner: Chuck over Stromer.
The Martins Never Even Show Up Bracket:
Somehow Courtney and Chris managed to stay up until 10:30 for an elite 8 roll last night, but couldn't come up with a W. Courtney powered through, but that little alien growing in her belly won't be a happy camper come Saturday, so I don't expect Chris will be let out of the house to make it to the HRT, especially when he has to go play a gig that night. That throws a big wrench in the gears for this one, so watch out! [Editor's Note: if he did show up, he wouldn't make it past the second round. Fact.]
The Choke Artist:
Devin. When he's not giving you advice you didn't ask for [Editor's Note: or asking for trophies], he's usually choking (last night's last ball hundo to send it to OT). He may have made it to the finals against Pinball last season, but the guy is notorious for getting a little too "loose" on Super Saturday. Look for him to fall to Adam Schmidt early, and then find him at the bar drowning his sorrows in Jameson, much to Chelsea's dismay.
The One to Watch:
I originally had this pegged as Mike Selbovitz (he's Stephanie Burgess's hunk for those of you who don't know), but after last night, it's impossible not to point out Cory Magno. This guy has only been in the league for a few seasons, but already has 2 chalices, and is in his 3rd final four in 4 seasons [Editor's Note: kid can flat out roll when it's playoff time]. He performed great under pressure last night, and look for him to do it again against Dawson and give himself a shot at the HRT final four.
The Match of the Bracket:
With Chris Martin out of the picture, this bracket could be decided fairly early on. If Devin somehow doesn't choke his HRT hopes away, his match against Everett "The People's Champ" Phillips will be a great one [Editor's Note: his nickname is The Baker, just saying]. Everett may not win it all, but he will knock out his protege.
Who wins:
In a surprise turn of events, Everett beats one former teammate, but loses to his other former teammate, Cory. Cory makes the final four, and shocks the world. [Editor's Note: I love the pick. Silent and deadly.]
The Not So Danger Zone Bracket: [Editor's Note: ZING!]
Ben and Max suffered a brutal loss last night to Chris and Courtney (and Jim), and are hoping to redeem themselves in the HRT on Saturday. This bracket also has Bri-Guy, Nick Weir, Justin Kennedy, Mike Moody, Jerry [Editor's Note: new nickname: Bad-math Jerry!], and up and comer [Editor's Note: we call them rookskees] Carolina Roseli. It's very evenly balanced, and should make for a great watch.
The Choke Artist:
Ben Fountain. He had his best season to date, but he's going to cough up a hairball on Saturday. He faces his teammate Max early, then has to go through Bri-Guy, who is practically automatic in the HRT. Sorry Ben, but you'll be done way before you want to be.
The One to Watch:
Last season, the story of the playoffs was Mike "The Machine" Moody. Out of nowhere, Mike took over the final four and the championship match of the team finals and carried his team to victory. Look for him to upset Justin and Jerry [Editor's Note: Bad-math Jerry] and give Nick Weir a run for his money.
The Match of the Bracket:
Nick Weir vs. Bri Guy in the elite 8. Two of the most consistent rollers in the entire league will face off in an epic battle. This one is a coin flip, but I give it to Nick by a whisker. [Editor's Note: I'd go Brian by a hundo, because Nick can't hit hundos. But you do you boo boo.]
Who Wins:
Nick Weir takes this bracket down, and storms into the final four with a full head of steam. [Editor's Note: isn't it full steam ahead?]
The Pinball Needs Another Trophy Bracket:
After last night, Steve Robinson has to be a little despondent. The guy never quite makes it happen with his team, but has immense talent. He makes his hay on Super Saturday, but he has some stiff competition in his bracket this year, not the least of which includes Marissa Bias, Jeff Wagner, Ryan Geraghty (way to forget your hundo frame last night), Steph Burgess, Scottie Too Hottie, Lindsay Allen, and his lovely lady Kristen Skillman. This is no cake walk, trust me.
The Choke Artist:
I don't know that I can really call this a choke, but the seeding would have you believe it. Lindsay will face Kristen in the early goings [Editor's Note: stop it.], and after last night's failure to make it past the first round, Skillman is out for blood. She upsets Lindsay in 2 frames and moves on to beat Steph and then take on Pinball in what will make for a VERY awkward ride[Editor's Note: Black Uber] home at the end of the night.
The One to Watch:
Jamie Bergstein is always right there, a little under the radar, but consistently dropping very good scores. If she can get through D-money in the first round, and if Steve is still shaking out the cobwebs from last night's loss, she has a chance to turn this bracket on its head. [Editor's Note: She also has one of the most ruthless followings in the league. Crowd favorite for sure.]
The Match of the Bracket:
The lower half of this bracket is where I see the most realistic chance of a dark horse candidate, and it comes in the form of Jeff Wagner. One of the steadiest rollers in the league, Jeff will face off with Scottie Too Hottie Sinclair in a 3-frame cage match, and Jeff will come out on top with a last ball hundo.
Who Wins:
Jeff vs. Pinball. Steve stops Jeff's miracle run, to the disappointment of the entire crowd.
Final Four: Pinball vs Nick Weir, Chuck vs Cory Magno
Pinball v. Weir might be one of the heaviest heavyweight matches that an HRT has had to offer in recent memory. These two will go blow for blow, but I predict Nick opens the proceedings with his hundo frame and drops a 720 [Editor's Note: has Nick EVER rolled a 720?], putting Steve on his heels. Nick wins in 3.
Chuck v. Cory: He made a great run to get this far, but Chuck's veteran poise and proven prowess in the HRT makes him a huge favorite here, and for good reason. Cory has an outside chance, given his strength at hundos, but I give this to Chuck in 3.
Final: Chuck vs. Nick
This is Ali – Foreman, Tyson – Holyfield, T-Swift – Nicki Minaj stuff right here. Two of the league's best, head to head. Both of these rollers are excellent sharpshooters, and cool under pressure, making them equally suited to the stage of the HRT final. There is an edge here, and it's because Chuck has taken seasons off from shooting hundos. Nick can put the pressure on with a big hundo frame, and force Chuck out of his comfort zone. In the most shocking HRT final ever, Chuck loses to Nick in 3 straight frames, and Nick Weir is crowned Season 16 HRT Champ.
If you've honestly read this far, you know by now that all of this is complete crap, and that nothing I've said here will happen. Also, props to #14 seed Skee Who Must Not Be Named for their Cinderella run to the Final Four, and best of luck to everyone on Super Saturday.
Find your 40, knock it down.
Ghost Writer, out.
Season 16 High Rollers Report