Season 16 Brackets Released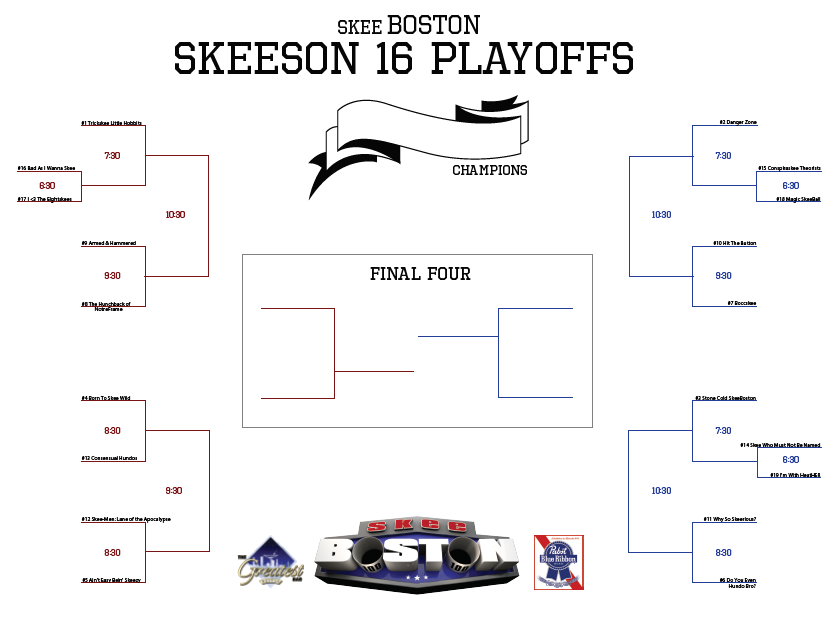 Season 16 Brackets Released:
Season 16 Wild Card
Season 16 HRT
Season 16 Team Bracket
As always, playoff times are locked. There are no events at the Garden tonight, so please, please, please be on time for your match. If you need a last minute sub, any rookie (someone who has never rolled) is approved. If you need someone else, email us.
No one stepped up to make picks tonight, so your truly will be tossing darts. I have a shitting machine in my arms (literally), so this is going to be short and sweet.
Top Left Bracket:
This bracket is more exciting than it should be. Why you ask? Well… #9 seed Armed & Hammered should actually be a #4. So Trickskee and A&H are on a collision course one round earlier than they would have been had Chris not missed 4 weeks instead of 3. I'm sure Jerry will complain (read: he already did) but I actually think this benefits A&H. I also think they advance. Down goes the overwhelming favorite… AGAIN! (clearly Scott or Ben didn't write this ;))
Bottom Left Bracket:
This bracket features a couple clutch teams, led by Bri-Guy and Lindsay (Hi Eric). Both teams cruise in the first round. The match to get to Super Saturday is going to be an epic one… but in the end the experience of Skeezy will be too much. That is unless Eric pulls the "live and die by the hundo" routine again this season. If that happens, Born to Skee Wild will knock them out. I'm trusting Lindsay and Ray can talk some sense into Eric at some point. Skeezy moves on.
Top Right Bracket:
This bracket could have been a melt down, but for Ben's sake, Polischoke can't make it Thursday. I think Conspiraskee makes it past the first round, but without Polischoke's distractions, Ben finds a way to will his team to the final 8. The bottom of this bracket features two teams that could win it all. Scott leads a very solid squad against vets Boccskee. I'm going with my gut here and taking Boccskee not only to beat Hit the Button (great team name btw), but to also knock off Danger Zone and advance to Super Saturday.
Bottom Right Bracket:
This bracket will be boring. Sorry. All chalk here. Joe and Steve find their groove and lead Stone Cold SkeeBoston (another great team name) to Super Saturday.
Final Four:
In the Final Four I have Armed & Hammered vs Ain't Easy Bein' Skeezy and Boccskee vs Stone Cold SkeeBoston. All four of these teams have a shot. It's all about who's hot at the right time. I have no clue what's going to happen, bue I'm picking Skeezy and Stone Cold to advance. This final will be epic no matter who makes it. I'm going w/ Steve winning his first chalice (blackout to follow).
Alright skeeballers. If you don't like my picks, prove me wrong tonight! Skee you all on the lanes.
~Duke
Season 16 Brackets Released